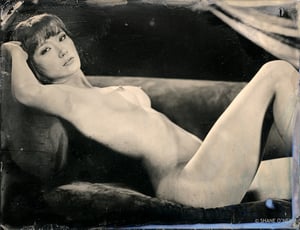 $

65.00
A Tintype is a photograph process that was used in the late 1800's.
The plate is coated with collodion then dipped in silver nitrate & must be photographed while the plate is still wet, then it gets developed inside a darkroom and finished off in a bath of cyanide.
I individual scan each plate with a top of the line flat bed scanner.
No retouching is done to the image leaving all the original blemishes from this amazing process.
Giclée Print's on Archival Paper.
Hand signed with edition number on front of print.
Price increases as the editions sell.
Shipping within the US is included in the price of the print.
Ships via Priority Mail in the United States.
Worldwide shipping also available for an additional $20.